Compared to Zinc and Lead
The difference in waveform patterns of the MT, zinc and lead are impressive in just 12 days time. Changes in behavior and cognitive ability need to also go along with these changes and they were there as well. This child exhibited an increase in his social skills, he was better at verbalizing his feelings, and showed much more emotion than he had previously. His short-term memory improved. His aide at school noticed more appropriate interaction with the children at school.


Large stringer at Lead 210 indicating large toxic amount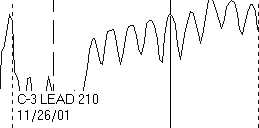 Small truncation indicating small amount
Copper detoxification is a crucial part of getting MT proteins to function, so we placed this child on a copper detox for 60 minutes per day using sound waves. Below are his before and after waveforms.


Copper present in large toxic amount in C-2 octave


Copper present in small amount in higher octave