Metallothionein Protein Disorder Discussion
It appears from our first try at using sound waves to address the MT dysfunction that it has great potential for assisting and correcting MT dysfunction. 65 more children have been placed on the program and we will continue to monitor progress and make changes to the programs as indicated.
The implication of MT protein dysfunction has far-reaching implications for many diseases including Alzheimer's, eating disorders encountered in premature infants and a host of psychiatric disorders. Effective treatment of this disorder requires a three-step approach.
1. Avoiding additional exposures.
Using filtered water to drink, cook and bath in. Avoiding swimming pools with heavy chemical and algaecide use, opting for mercury-free vaccinations and flu shots.


2. Detoxification of toxins from the body
PCA RX spray, sound waves, chelation using drugs like EDTA and DMSA


3. Correction of underlying chemical imbalances to minimize future vulnerability to toxins

Appropriate supplementation as indicated by hair analysis, blood and urine testing or Bio-Resonance evaluation.

Eating Disorder Example
This child has an aversion to food in his mouth. This is common in infants born prematurely. He exhibits several digestive issues that are commonly found in autistic children. Looking at the MT protein, it shows a large stressed truncation

His copper waveform is spiking all the way to the top of the register which indicates a severe toxicity.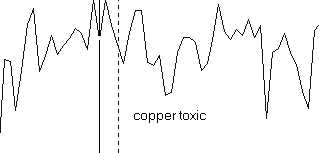 His zinc waveform shows severe depletion as well.

It appears that he may have a MT protein dysfunction that is contributing to his eating disorder.

The Pfeiffer Treatment Center is an outpatient facility dedicated to assisting persons with bio-chemical imbalances. Their professional staff of nurses, medical doctors and pharmacists can be reached at 1-630-505-1907 or visit them at www.hriptc.org